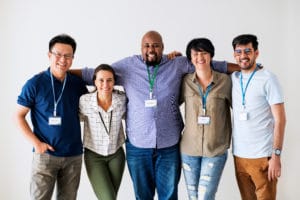 Helping the communities where we live and work by leveraging the extraordinary abilities of our people, ideas and resources.
"Volunteering is one of the ways in which we feel we can give something back to our local communities and respond to their needs. We have to remember that success is defined not only by business achievements, but also by how well we serve our communities and enrich our ecosystem." – Manny Soman, President and CEO, Verista
We live our mission of helping people live healthier lives; and our values of integrity, commitment, focus, innovation, diversity, excellence and teamwork every day, in everything we do. Giving, volunteering and business innovations are the ways in which we live our mission and respond to the needs of our communities. Each is important; together they become a powerful commitment to improving health, people's lives and their communities.
Giving back not only helps the less fortunate, it also provides the giver with greater sense of purpose, satisfaction and happiness. Throughout the year our employees dedicate their time with the people in the communities in which we work.
Charities and Organizations Verista Supports:
In Massachusetts and Philadelphia our local teams are building backpacks, filled with school supplies for the upcoming year. We are working these initiatives with nonprofit, Cradles to Crayons and in association with Life Science Cares.