Solutions
Engineering & Automation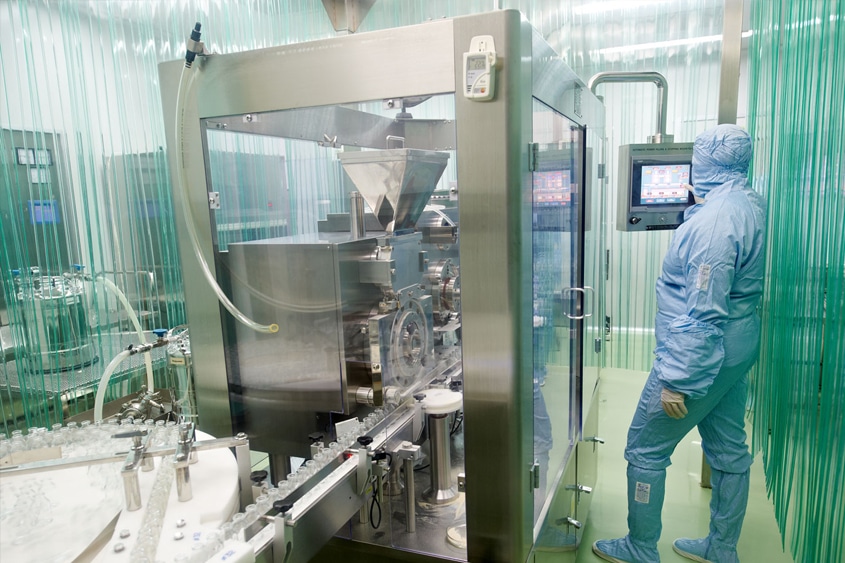 Engineering Solutions for Increased Production and Quality
Our core competencies are focused within the establishment of highly productive manufacturing and packaging lines, implementing automation solutions that increase quality and reduce costs, and an in-depth understanding of the intricacies of the life sciences industry. Our niche proven solutions in the life sciences field are critical to SISPQ—Safety, Integrity, Strength, Purity and Quality. Our standardized approach ensures complex, automated equipment meets regulatory and production requirements to efficiently deliver 100% compliant products.
There is a very thorough process to deliver an optimized manufacturing process or packaging line. A successful outcome must include a proper design process with detailed user requirement specifications for equipment and materials, well-planned equipment selection, expert implementation, and, of course, proper testing and validation.
Our engineering team focuses on these core solutions:
Packaging
Often, solutions are proposed by one company, using only their own equipment. But why settle for a single manufacturing equipment supplier when you can have the best of the best from multiple manufacturers? Verista's independent voice enables you to obtain the best equipment selection and integration possible. We specialize in packaging equipment, material design, implementation, and validation.
Pharmaceutical Manufacturing
Complex pharmaceutical manufacturing problems are one of Verista's favorite challenges. Our experts support combination drug-delivery devices, aseptic processing and filling, oral solid dose/dry products, continuous processing, and more.
Turnkey Line Integration
From initial justification and project design all the way through to validation, manufacturers need a team that can set up your line for success. Verista provides experience-based, unbiased equipment selection and implementation with only your requirements in mind.
Project Management
Pharmaceutical projects are typically complex with sophisticated and highly automated equipment. However the management of these complex projects must follow a detailed and disciplined approach that clearly communicates tasks, responsibilities and milestones to achieve together. Our Project Management Team brings together all the disciplines, knowledge, experience, and methodologies to efficiently and effectively deliver projects that optimize your manufacturing systems. Our core solutions include project justification, estimating, and delivery of the complete solution. Veriata's experienced Project Managers are technical engineers, that know and understand manufacturing/packaging equipment and processes to get the job done.
Our automation services can be broken down into three broad categories:
Manufacturing is reinventing the way things are made today, and much of that is attributed to automation. In the highly competitive global workforce, it's essential to embrace and implement automation. Automation has become a part of nearly every step in the manufacturing process for our clients. Verista provides automated systems and services within various manufacturing industries. As Verista works closely with your engineering team, we can assess the needs of your line from start to finish and design, implement and test systems to automate tasks for maximal production and yield.
Manufacturing & Packaging Automation
Our staff has extensive experience with complete automation solutions on numerous platforms. Programming competencies range from simple revisions and upgrades to complete control-system design and implementation. We can support automation projects for machine vision system solutions, PLC and HMI design and programming, control system upgrades, robots and robotic guidance and custom equipment. Verista has extensive experience with implementation of serialization systems from multiple vendors to help you evaluate which system is best for your supply chain needs.
Safety & Remediation
Manufacturing safety is a powerful tool to optimize your production environment and processes. Implementation of safety standards and technologies not only reduces injuries and downtime, but they also provide improvements in manufacturing productivity, efficiency and morale of your employees. Verista provides safety assessments and remediation that include equipment safeguarding, arc flash, lock out tag out, and overall safety of your personnel.
Software/Hardware Testing
Our dedicated testing and verification team verifies software and hardware device products such as glucose meters, insulin pumps, and mobile phone interface applications that require strict adherence to FDA guidelines.
Verista stands ready to provide you with the engineering & Automation support you need in the areas of manufacturing and packaging. Contact us online or call 317.849.0330 today.