Verista will be taking part in a webinar in conjunction with Pharmaceutical Technology magazine on March 23, 2022 at 11AM ET, 10AM, CT and 8AM, PT. The panel discussion will include experts from various life sciences companies, including Richard Tabarrini, President of Verista, and Keith Aurin, Director of IT & Enterprise Systems at Verista. Leading experts from Biogen, Vertex, and Alkermes will also share their advice and best practices to ensure a successful rollout. The webinar will focus on best practices when transitioning from CSV (Computer System Validation) to CSA (Computer Software Assurance).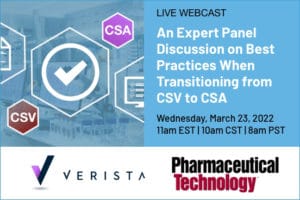 The goal of this webinar is to provide clarity on what the upcoming CSA guidance means for life sciences companies and what they can do to start preparing.
CSA is a framework designed to help manufacturers achieve CSV and provide clarity on the methodology used to determine what is high risk and what is not, thereby minimizing misinterpretation by manufacturers. The clarification in the CSA approach flips the paradigm to focus on critical thinking (risk-based), assurance needs, testing activities, and documentation, in that order.
Those who wish to join this free webinar can do so by registering here.
Key Learning Objectives:
In this webinar, expert panelists will share their experiences and best practices on how their organizations are approaching CSA. In particular, you'll learn how to:
Shift focus from being compliance oriented to adopting innovation and quality best practices
Leverage software suppliers existing activities (perform supplier audits)
Focus more on testing the intended use and business process versus documentation
Train stakeholders on the intended use of your computer system(s)
Conduct testing activities commensurate with the determined risk level
Review and update your current policies to align with the CSA approach
Who Should Attend:
Heads, Vice Presidents, Directors, Managers, Engineers, Specialists in Validation, Quality, Quality Assurance, Computer Systems, Computer Systems Validation
Speakers:
Rich Tabarrini
President
Verista
Richard has worked in the pharmaceutical industry for over 30 years, 25+ of which have direct involvement with computer validation and regulatory compliance. Prior to Joining Verista, Richard founded Covex, LLC in 2001, a company acquired by Verista in 2019. Richard earned a B.S. degree in biology from LaSalle University. He has achieved certification by the American Society of Quality as a Quality Auditor and has been approved by the Parenteral Drug Association (PDA) for performing PDA sponsored audits.
Keith Aurin
Director, IT & Enterprise Systems
Verista
Keith earned his Bachelors Degree (B.S.) in Management, with a specialization in Technology Management, from the New Jersey Institute of Technology and has been working in the pharmaceutical industry for nearly 20 years. Prior to joining Verista in 2010, Keith worked for a large global pharmaceutical company and was able to progress through roles of increasing responsibility. Keiths experience includes developing and delivering Computer System Validation related training programs both domestically and internationally. Additionally, he has obtained certification through the American Society for Quality (ASQ) as a Quality Auditor and has executed numerous third-party vendor audits in North America, Europe, and Asia.
Larry Herbst
Associate Director of IT Quality
Biogen
Larry has over 20+ years of experience in Quality Management and Validation in the pharmaceutical and biopharmaceutical industry and has been with Biogen for 3+ years as Associate Director IT Quality. He is a skilled Quality leader with a strong reputation as a strategic problem solver and dedicated leader who is passionate about driving action and achieving results. Areas of expertise include IT Quality Management, Compliance Enhancement, Quality Systems Management, Validation, and Commissioning.
Swetha Krishnan
Senior Director of Quality Systems & Compliance
Alkermes
Swetha Krishnan, Senior Director of Quality Systems and Compliance, is a quality and compliance expert who partners with key stakeholders, external partners and the user community to drive risk-based approaches to implementing and managing global GxP Computer Systems used company-wide from R&D through Commercial. With a MS degree in Bioengineering and over 15+ years working with diverse pharmaceutical/biotech companies like Alkermes, Sanofi Genzyme, Biogen Idec, and Pfizer in Computerized Systems Validation (CSV), and Quality Assurance (QA)/Compliance, Swetha recognizes what truly drives innovation, successful system and process launches, and effective validation and change management. Successful continuous improvement goes far beyond the fulfillment of business needs and must be expanded to ensure scalable, sustainable, cost-effective, efficient and compliant solutions and services.
Bhavish Kondaveeti
Associate Director of Quality Information Systems Management
Vertex
Bhavish is an experienced Quality Leader in the pharmaceutical, biopharmaceutical and medical device industry with a demonstrated history of managing QMS and quality life cycle projects. Bhavish excells at building partnerships across a global, matrixed organization and is very effective at building relationships with team members. He is sought after as a valued quality partner and is respected by peers and management alike. He is proficient at Data Integrity, GxP Operations, Resource Management, and Regulatory Standards.